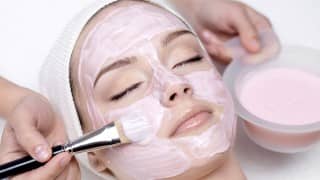 The Strawberry is a red fruit rich in Salicylic Acid.
Learn how to make a mask from strawberries for acne, a natural home remedy which is quite effective in treating mild to moderate facial acne.
We will briefly explain the cosmetic properties of Salicylic acid and then offer you a recipe for a strawberry based anti-acne facial mask that improves blemish-prone skin.
Properties of Salicylic Acid
Salycilic Acid is one of the principal ingredients of certain creams and lotion sold commercially to treat acne. It should be noted that strawberries contain great quantities of this natural acid.
Salicyilic Acid is a beta hydroxy-acid (BHA) that reduces the symptoms of mild to moderate acne. It has a topical function: analgesic, anti-inflammatory, antimicrobial, antifungal and antipruritic (soothes itches).
Salycilic Acid is also quite an effective keratolytic agent. In certain types of acne, the stratum corneum (the outermost layer of the epidermis) produces an excess of keratin. In this case, the application of a mask based on salicylic acid will reduce the thickness of the stratum corneum.
Salycilic acid is also able to penetrate the pores of the skin. It exerts a comedolytic action, that is to say that it dissolves the blackheads (comedones) by eliminate the retention of sebum which obstructs the pores (pilosebaceous follicles). In this way, it reduces the emergence of white spots and also acne pimples.
Salicylic acid helps improve the production of collagen, cell regeneration and the function of the cutaneous barrier.
Strawberry Mask for Acne _ Properties
The strawberry is rich in vitamin E, a natural antioxidant able to delay the process of cellular aging. It contains calcium, copper, iron, magnesium, manganese, potassium and zinc, as the vitamins A and B (Vitamin B5, B6 and B8). Vitamin B8 or biotin contains sulphur which helps to treat acne since it exerts an antiseborrheic action.
A strawberry mask has a soothing, revitalizing and toning effect on the face. The strawberry brightens the complexion.
In addition to beta hydroxy acids (like salicylic acid), the strawberry contains also the other natural sugar acids known as alpha hydroxy acids (AHAs). The AHAs, water-soluble, moisturize the skin.
Studies have revealed that AHAs also facilitates the elimination of sebum and blackheads (to a lesser extent than BHA which are in themselves fat-solubles). These natural acids also stimulate cell renewal and regeneration.
Recipe for an anti acne strawberry mask
Ingredients :
➤ 1 Half cup of strawberries
➤ 1 half egg white
➤ 1 tablespoon of organic honey
Method :
With the back of a fork, pound well the 3 natural ingredients to the consistency of a sticky paste. You can also use a mixer/blender.
Appy this mask for acne on your face and let it act for about 20 minutes. Wash the skin thoroughly with water.
Which type of soap is recommended for washing the face ?
Alep Soap made from virgin laurel and olive oil is ideal to accompany the daily treatment and care of skin with acne.
Alep Soap exerts an extremely soft cleaning action and aids the healing of acne scars.
This soap has the advantage of not blocking the pores of the skin because it contains no animal fat. Laurel berry oil rebuilds the hydro-lipid epidermal barrier. Alep Soap suits all types of skin, even the most sensitive.
Author : Alexis ROGER
How to Cure your Acne within 2 Months ?
Have you tried many acne home remedies with no success ? Are you worried about scarring ? Acne home remedies may help to clear you acne naturally, but unfortunately they are not magical solutions!
Is there a way to cure your acne within just 2 months ? The only way to cure acne permanently and quickly consists to approach the disease from a holistic point of view.
If you want to learn more about the only holistic acne system in existence that will teach you how to permanently cure your acne, end the breakouts and rebalance your body, click on :
➤ « Acne No More System » !
This program contains all the information you'll ever need to eliminate your acne permanently without creams and without using drugs and without any side effects.
The video presentation above shows you some unique and rare tips on how to eliminate acne and achieve perfect clear skin in as little as 7 days! This is based on the latest scientific research on how to stop the actual CAUSE of acne.
*And if you also have any blackheads, excessive oiliness and hyperpigmentation marks or acne scars, then the moves highlighted above will help remove most of these acne related symptoms while restoring your energy and vitality and dramatically improving the quality of your life.
Important note: I can't leave this video up for long, so be sure to watch it from beginning to end while it's still here. Remember: Watch the whole video, as the ending will pleasantly surprise you…
➤ « Acne No More System » !