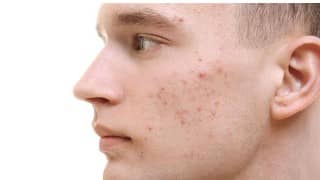 If you suffer from a moderate to severe acne, you will surely be looking for a treatment capable of getting rid of acne in the quickest possible time without leaving scars.
The best at the time would be finding a natural remedy adapted to your acne and to your type of skin. Some authors have sworn that vitamin B5 is the best solution for the problems of acne pimples.
Is this information approved and validated by the scientific community ? What have clinical studies revealed about this ? What do the testimonies of people who have already tried to get rid of acne with vitamin B five supplements reveal ?
The role of vitamin B 5
Pantothenic acid or vitamin B5 is an organic substance indispensable for the good functioning of the human body it is a derivative of whole enzyme a (CoA) and a necessary molecule in the function of the many chemical reactions which are produced in the cell's.
The A coenzyme is composed of four things: nucleotide, adenosine diphosphate(ADP), vitamin B5 of (pantothenic acid) and cysteine (an amino acid).
Pantothenic acid also plays an important role in the metabolism in of sugars of proteins and fats, as well as in the synthesis of hormones and of cholesterol. This information will help you to further understand why Vitamin B5 is considered to be an antidote against acne!
Food source of vitamin B5
The name pantothenic acid is derived from the Greek pantos, meaning 'from everywhere', referring to its wide distribution in most plants and animals.
Foods rich in vitamin B5 include: meat, liver, kidney, fish, seafood, chicken, vegetables, legumes, yeast, eggs and milk.
Dr. Leung's theory on the efficacy of vitamin B5 on acne
After performing some tests on mice, a small scientific study was published in the late 1990s to promote the use of pantothenic acid in the treatment of acne vulgaris.
According to a study published in 1995 by Dr. Lit- Hung Leung, a high dose of vitamin B5 improves acne and reduces the size of pores. Dr. Leung also proposed a mechanism, a theory indicating that the CoA regulates both hormones and metabolism of fatty acids or fats.
According to his theory, the coenzyme-A must be present in sufficient quantity to perform its functions in the synthesis of hormones and metabolism of fatty acids. A deficiency of pantothenic acid (Vit.B5) necessarily leads to a deficiency in Co-A. What happens in this case? The Co-A will promote the synthesis of hormones to the detriment of fatty acid metabolisms. This results in an accumulation of fatty acid in the sebaceous glands. Overproduction of sebum combined with many dead cells clog pores and leads to the phenomenon of acne.
Conclusion : To prevent the level of Co-A from decreasing, provide the body with enough vitamin B5! The theory stands! It is convincing, but what do clinical studies show?
Clinical trial led by Dr. Leung
Dr. Leung led a clinical study involving 45 Asian men and 55 women with acne vulgaris. Different doses of 10 to 20 g of pantothenic acid were prescribed for these volunteers, 80% orally and 20 % in a topical form (dermatological cream)
Leung noted improvement of acne after only one week of treatment and after 1 month of treatment at the very latest.
What about this clinical trial and Dr. Leung's findings? Experts say there are many gaps in the achievement of this clinical trial. On the other hand, to date, none other than Dr. Leung has initiated a clinical study to affirm or confirm the therapeutic effect of vitamin B5 on acne.
Vitamin B5 Against Acne _ Positive evidence
While some scientists and doctors remain skeptical about the use of vitamin B5 as natural anti- acne remedy, there is still encouraging evidence from other health professionals.
For example, health professionals who work for the famous American website healthy-skin-guide.com claim to have over 40 years' experience in treating acne and that vitamin B5 is one of the best natural remedies down to this day.
Your testimony is welcomed!
If you followed a course of vitamin B5 to stop your acne, please leave a testimonial. Whether positive or, on the other hand, negative, your own experience can help others to get a better opinion on the matter. To testify, click here. If your testimony is of interest, I would publish it in this article. Thank you in advance!
Testimony # 1: My 13 year old son suffers from acne and I found the treatment with Vitamin B5 by chance on the internet. I must state beforehand that my eldest had also suffered from acne which nothing has been able to treat, only a 6 month treatment with Roaccutane which had in fact proven to be a resolvent (anti-inflammatory). Going back to my other son, after trying several more or less natural treatments, I came upon vitamin B5 and I must say that we are very happy. After 3 months of treatment, the improvement was clear enough. A small problem: when we tried to reduce the dose from 10 g a day to 7.5 g a day, the bumps reappeared. Francine
Vitamin B5 deficiency and marketing of vitamin B5 supplements
We must recognize that freezing and canning foods the mentioned above may result in a loss of much of their pantothenic acid content. Whole grain cereals are also a good source of vitamin B5, but refining tends to break them down. It therefore appears that the dietary intake of vitamin B5 is sometimes insufficient.
Signs of vitamin B deficiency are: general fatigue, headache, nausea, vomiting, hypoglycemia, tingling in the feet and leg cramps.
Vitamin B5 supplements are sold in pharmacies as D-pantothenic acid or calcium pantothenate acid. Only the dextrorotatory isomer (D) of pantothenic acid has a biological activity.
What kind of soap is recommended for washing the face?
Whether or not you decide to take a course of vitamins B5, it is important to follow some basic rules of hygiene. Do not use just any kind of soap for your face!
Aleppo soap with virgin laurel oil and virgin olive oil is ideal for accompanying daily skin care for acne.
Aleppo soap indeed exerts a cleansing effect of extreme softness with olive oil and promotes the healing of acne lesions. This soap has the advantage of not clogging the pores of the skin, because it contains no tallow. The laurel berry oil restores the hydrolipidic film of the epidermis.
Aleppo soap is suitable for all skin types, even the most sensitive types.
Author : Alexis ROGER
How to Cure your Acne within 2 Months ?
Have you tried many acne home remedies with no success ? Are you worried about scarring ? Acne home remedies may help to clear you acne naturally, but unfortunately they are not magical solutions!
Is there a way to cure your acne within just 2 months ? The only way to cure acne permanently and quickly consists to approach the disease from a holistic point of view.
If you want to learn more about the only holistic acne system in existence that will teach you how to permanently cure your acne, end the breakouts and rebalance your body, click on :
➤ « Acne No More System » !
This program contains all the information you'll ever need to eliminate your acne permanently without creams and without using drugs and without any side effects.
The video presentation above shows you some unique and rare tips on how to eliminate acne and achieve perfect clear skin in as little as 7 days! This is based on the latest scientific research on how to stop the actual CAUSE of acne.
*And if you also have any blackheads, excessive oiliness and hyperpigmentation marks or acne scars, then the moves highlighted above will help remove most of these acne related symptoms while restoring your energy and vitality and dramatically improving the quality of your life.
Important note: I can't leave this video up for long, so be sure to watch it from beginning to end while it's still here. Remember: Watch the whole video, as the ending will pleasantly surprise you…
➤ « Acne No More System » !