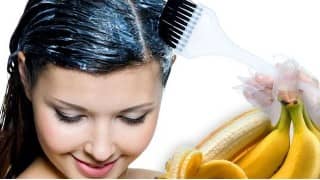 If your skin has a tendency to be dry, rough or dehydrated, it is possible to remedy it in the most natural manner possible.
One should know that the current ingredients such as banana, honey, oats, milk, yoghurt, and certain vegetable oils, contain essential nutrients that when applied to the skin repairs, moisturises and nourishes.
It will be necessary to ensure the restoration of the face's protective lipid layer.
These same ingredients also serve to take care of your dry and damaged skin. It must be noted that quite a few hair products made from chemical components (dyes, hairsprays, hair defrizzer) irritate the hairs in making them fragile, dry, brittle and dull.
I give to you first of all 3 excellent recipes for homemade moisturizing masks, made from banana, to nourish conveniently the skin of your face and to protect it. Discover also 2 other natural moisturizing masks easy to make at home, to condition your dry hair in moisturizing them and making them more brilliant and silky. Then, discover a foot and legs mask.
Banana hair mask and banana face mask recipe – Moisture masks
Why bananas are used in recipes for home made beauty masks ? The banana is the 'STAR' ingredient in recipes, because it is rich in vitamins (A, B2, B6, B12, C, E) and in mineral salts (magnesium, potassium, iron, zinc). The banana contains 75% water and 15 to 25% natural sugars (sucrose, fructose, and glucose) plus proteins and fibres. Also the banana contains 0.3 to 0.6 present of essential oils, malic acid, enzymes, and pectins.
The acids contained in bananas help to get rid of dead cells. The banana contains tryptophan, an amino acid very beneficial for the skin and the hair. The magnesium energises the cells. Cosmetically speaking, the banana hydrates, softens, nourishes and regenerates the skin and the hair.
Recipes for banana masks for dried facial skin
RECIPE #1 OF BANANA, HONEY AND OATS
1 ripe banana
1 tablespoon organic honey
5 tablespoon of oatmeal
Crush well the banana with the back of a fork. Add the honey and oatmeal (ground oat groats) and mix to the consistency of smooth and uniform paste. Apply the cosmetic preparation to the face except the contours of the eyes and leave to act for about 15 minutes. Rinse plentifully with tepid water. This natural beauty mask is moisturizing and nourishes the skin perfectly.
RECIPE #2 OF BANANA, HONEY AND YOGHURT
1 ripe banana
1 tablespoon organic honey
5 tablespoon of yoghurt
Blend all ingredients to a uniform paste. It is an ideal mask for dry and normal skin.
RECIPE #3 OF BANANA, HONEY AND JOJOBA OIL
1 banana
1 orange
1 tablespoon honey
1 half teaspoon of jojoba oil
4 tablespoons of oat flour
Chamomile infusion
Blend all ingredients to a uniform paste. It is an ideal mask for dry and normal skin. Grind the orange skin and mix the fine shavings of orange skins with the crushed banana. Add the honey and oatmeal. Mix well all the ingredients of this natural mask before applying it on the face and on the neck, without touching the corners of the eyes, then let the mask act for about 20 minutes. Afterward rinse the face with chamomile infusion.
Recipes for banana masks for dry hair
RECIPE #1 MADE FROM BANANA, LIMON AND SUNFLOWER OIL
1 ripe banana
1 tablespoon lemon juice
1 tablespoon sunflower oil
Mix all ingredients together and apply the mask to the dry hair. Leave the hair mask to work for about 30 minutes and rinse generously. After this you may wash your hair as normal. Your Hair will become moisturized, silky and shiny.
RECIPE #2 OF BANANAS, MILK AND OLIVE OIL
1 ripe banana
1 egg
1 tablespoon of honey
1 tablespoon of milk
5 tablespoons of olive oil
Mix all ingredients together in a blender in order to obtain a uniform paste. Apply this beauty mask to your hear and leave to work for between 15-30 minutes. Rinse and wash your hair with a gentle shampoo. Your hair will become shiny and stronger.
Foot and legs homemade mask recipe – Banana mask
1 banana
1 ripe avocado
1 tablespoon of fresh cream
1 tablespoon of sweet almond oil
This mask contributes to the moisturizing of dry skin and smoothens the skin of the legs. The banana also helps to tonify and make firm any loose skin on the legs. This mask has nourishing and soothing properties. In addition, applying this mask in the form of a massage will also de-stress and calm you.
Your feet endure a lot of shocks and your skin protects itself in forming calluses (thick and hard layers of skin). This mask for damaged feet restores the necessary moisture to the skin for it to regain its suppleness and softness.
Author : Alexis ROGER
Press The Rewind Button On Aging From the Inside-Out
Master a powerful, anti-aging Shiatsu routine that helps generate lymphatic circulation and gives you a natural facelift. (You won't believe how easy it is to diminish that swelling around your eyes… or the puffy, blotchy complexion that drives you crazy.)
Eliminate fine lines around the eyes and mouth.
Tone sagging facial muscles.
Firm facial contours.
Soften deep wrinkles across the forehead, between the eyebrows.
Reduce under eye and facial puffiness.
Tighten large and uneven facial pores.
Define cheeks, neck and jawline.
Improve skin texture and color.
Create a luminous and radiant glow.