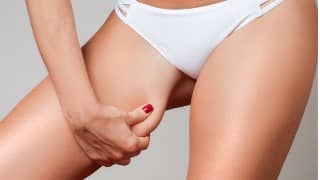 There are many skin lighting products available to consumers.
Such a products are known as bleaching creams, skin brighteners or whiteners.
Organic cosmetic brands are free of dangerous chemicals but they are more expensive.
There is nothing better than preparing a homemade skin lightening remedy !
It costs almost nothing and is as effective as a bleaching cream available in the market.
Naturalexis.com website offers 20 homemade recipes and teaches you how to lighten and brighten skin naturally at minimum cost. These natural homemade cosmetics will be able to lighten dark parts of your body such as face, neck, elbows, knees, etc.
How to Lighten Inner Thighs – Face and Neck
1) Lemon juice + cucumber juice : Mix equal parts cucumber with the skin attached and lemon, then apply this homemade mask on your face to lighten skin naturally. Wait and let stand for 15 minutes before washing away with cool water.
2) Lemon juice + tomato juice : Add 4 drops of lemon juice to tomato juice and apply this homemade skin lighting mask to face and neck on thoroughly cleansed skin. Wait and let stand for 15 minutes before washing away with cold water.
3) Lemon juice + honey : Mix lemon juice with an equal amounts of honey. It is one of the best skin lightening remedies. Wait for about 15 minutes before rinsing your face. Wait about 15 minutes and then wash everything off with cool water.
4) Lemon juice + turmeric : Mix 1 teaspoon of turmeric powder with fresh lime juice in order to make a paste. Rub your face and neck with this natural skin bleach to dilute the concentration of the melanin in the skin.
5) Lemon juice + milk + chickpea flour : Mix together one teaspoon of milk, three to four drops of lemon juice and a little chickpea flour to make a soft dough and apply it evenly all over your face and neck. Wait and let stand for 15 minutes before washing away with cold water. Repeat this skin lightening treatment every two weeks. It will improve your complexion.
6) Orange Juice : If you are looking for a natural homemade recipe in order to brighten all dark parts of your body (face, neck, elbows, knees …), here's a simple trick : cut two or three oranges in half, extract juice and clean out pulp. Apply this fresh citrus fruit juice all over your body.
7) White radish juice : Apply white radish juice evenly all over your face and neck.
8) Mask proteins : Soak a few almonds in milk overnight and use a mortar and pestle to crush them. Make a smooth paste and apply it on your face before going to bed. Leave the mask of proteins on overnight. Gently remove the facial mask then rinse off with warm water.
9) Milk + saffron : Mix a few strands of saffron in half a cup of milk and keep aside overnight to soak. When you wake up in the morning, you'll notice that the saffron filaments have lost their natural deep yellow-orange color. Add 3 tablespoons of ground almonds to the mixture, and leave the preparation for one hour. After that, you can apply this paste on your body and let it dry. When the mask is dry, remove it by rubbing the skin gently. Rinse with clear water.
10) Milk Bath : Pour a gallon of whole milk into the tube and fill with water at 37° C. Soak in this milk bath for at least 20 minutes. Take a milk bath once a week.
11) Yoghurt : Apply yogurt on the face and neck.
12) Yoghurt + tomato juice + oatmeal : Mix oatmeal with yogurt and tomato juice and apply on face. Wash with cold water after 15 minutes.
13) Yogurt + Turmeric : Mix a bit of turmeric powder with yogurt and apply this homemade skin lightening remedy on the face, neck and arms. Leave on 30 minutes, then wash with cold water.
14) Fresh cream + lemon juice : Mix a tablespoon of fresh cream with a tablespoon of lemon juice and apply to the face and neck while making penetrate by a soft massage for about 2 minutes, then rinse with clear water.
15) Sandalwood powder + almond powder + almond oil + milk : Mix these 4 ingredients and proceed for scrubbing. Gently massage the darkest areas such as the neck, around the lips, under the eyes …
16) Mint leaves : Grind the mint leaves, add a little water and apply the paste on face and neck. Let stand for 20 minutes, then wash with clean water.
17) Raw potato slices : Apply slices of raw potato on the parts of the face and neck which display dark spots and marks. It is a natural way of bleaching dark spots.
18) Lighten skin on hands and feet : To remove tan from hands, apply a paste prepared by mixing sunflower oil, lemon juice and sugar. Leave on for 20 minutes, then wash with cold water.
19) Whiten dark feet, ankles and elbows : Soak dark feet, ankles or elbows in clear water containing lemon juice for about 15 minutes.
20) Lighten lips : Apply a preparation made by mixing a few drops of lemon juice with vaseline on your lips regularly at night. This keeps the lips moisturized. In the morning, rub your lips with a toothbrush to remove dead skin.
Important Points about the Use of Natural Lightening Remedies
1) All homemade skin lightening remedies (mixtures, pastes, masks and scrubs) must be prepared right before they are used in order to keep their brightening properties.
2) You cannot get clearer skin as if by magic. If you were not born with a fair complexion, you cannot change the genetic code that you were born with. Homemade recipes reported above can make you skin (face and some other parts of the body) whiter within a certain limit ! In order to obtain satisfactory results, it is important to regularly renew the applications.
3) Drink plenty of water, at least 10 glasses of water per day. That will help you get rid of dark circles under the eyes
4) If you must be out in the sun, apply an SPF 15 sunscreen in order to avoid getting tan. The skin produces melanin, a dark colored pigment, as a shield against harmful UV rays.
Author : Alexis ROGER
Press The Rewind Button On Aging From the Inside-Out
Master a powerful, anti-aging Shiatsu routine that helps generate lymphatic circulation and gives you a natural facelift. (You won't believe how easy it is to diminish that swelling around your eyes… or the puffy, blotchy complexion that drives you crazy.)
Eliminate fine lines around the eyes and mouth.
Tone sagging facial muscles.
Firm facial contours.
Soften deep wrinkles across the forehead, between the eyebrows.
Reduce under eye and facial puffiness.
Tighten large and uneven facial pores.
Define cheeks, neck and jawline.
Improve skin texture and color.
Create a luminous and radiant glow.