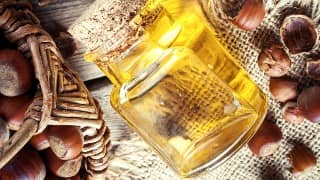 Some cosmetics contain hazelnut oil. What are the benefits of this oil ? I invite you to discover its 8 main virtues. What makes this oil exceptional ?
What ingredients does it contain? How can hazelnut oil be used for skin care and hair ?
Discover three homemade recipes easy to make at home.
Hazelnut Oil – A Brief Introduction
Hazelnut oil is an excellent oil produced from shelled and cold pressed hazel (Scientific name: Corylus avellana). It takes about 2.5 kg of nuts to extract one litre of pale yellow oil. Hazelnut oil can be used in food, in dietetics or cosmetics.
In gastronomy, its fine taste and fragrance are sought for seasoning salads and some naturally sweet foods. Hazelnut oil, which is easily digestible, can also be used as a substitute for olive oil in the pesto, as it absorbs well the spicy flavor of basil. Since this oil is relatively expensive, its use in food preparation is limited. It is found more extensively in beauty products.
Components of Hazelnut Oil
Hazelnut oil mainly contains oleic acid (73 % to 84 %) and linoleic acid (8 % to 17 %). It also contains palmitic acid (4 % to 7 %), stearic acid (2% to 3 %) and very little linolenic acid (0.1 % to 0.6 %).
Hazelnut oil is rich in phytosterols (1.2 to 1.4 g per kg oil), vitamin E (47 to 54 mg per 100 g oil) in the form of alpha-tocopherol (about 88 %).
Hazelnut oil contains about 20 to 50 mg of squalene per 100 grams of oil and 110 to 140 mg of phytosterols per 100 grams of oil.
It contains minerals such as potassium, calcium and magnesium.
Hazelnut oil contains polyphenols and among carrier oils, it has one of the highest concentrations of flavonoids. This is due to the presence of catechins and tannins, it gives the sensation of dry oil as it is applied to the skin.
Hazelnut Oil Recipes
Hazelnut Oil and Benefits For The Skin – Properties and Virtues
1) Moisturizing and emollient properties
Hazelnut oil acts on the skin as an excellent moisturizer and emollient (softened tissue), because it has a number of key essential fatty acids such as linoleic acid, which possess characteristics to rehydrate the skin fatty acids. This is why the oil is widely used to treat dry skin. It contributes to the elasticity of the skin.
2) Softening virtues
The oil extracted from the nut is ideal to soften and soothe the skin. It is recommended treating the irritation of dry, sensitive or damaged skin. These properties are due primarily to the presence of vitamin E, phytosterols and action stearic acids. Its content of calcium, potassium and magnesium also explains the oil's softening effect when applied on skin regularly. This helps the oil to lubricate the skin.
3 ) Antioxidant properties
The antioxidant vitamin E helps to solve many aging-related problems. Free radicals cause the most damage, as do the destruction of cells and chapped skin. Daily applying hazelnut oil to the face can slow down the aging process by neutralizing free radicals. Hazelnut oil is therefore a anti-aging beauty product, prized for delaying the formation of wrinkles.
4 ) Protection against ultraviolet rays
Hazelnut oil can be used as a sunscreen because it is able to filter out the harmful rays of the sun. It is for this reason that most sunscreens contain hazelnut oil. For more protection from the sun, you can mix this oil with sesame oil, avocado oil and walnut oil. Have you ever thought of mixing a drop of hazelnut oil in one of your day creams to protect you from the sun ?
5) Astringent and antibacterial virtues
Hazelnut oil is a skin astringent, which is to say, it tightens the living tissue. The oil thus helps to tighten pores and is not so much comedogenic. Instead, hazelnut oil helps regulate sebum secretion, which is why some people recommend it for to treating oily skin, seborrheic dermatitis and / or acne. Thanks to its antibacterial action, it is an effective natural remedy against chapped lips , stretch marks, some scars, etc.
6) Nutritiive action
Hazelnut oil help to regenerate dead cells and revitalize the skin. It helps to tone and firm the skin and has the advantage of being applicable to all types of skin: dry skin, mixed skin and even oily skin. Its nutritive action is beneficial as a beauty treatment for the face, body or hands.
7) Relieves Hair irritation
Hair coloring is trendy and nowadays more and more women find it interesting. However, be aware that colourings tend to wear out and weaken the hair. The hair becomes dull and rough in the long run. To maintain the color for longer and protect your hair naturally, apply hazelnut oil to the hair before shampooing.
8) Pleasant 'dry oil' texture
This oil can be part of a treatment applicable on the day, it does not leave a greasy film on the skin. Moreover, this oil is very slight. It is more fluid than almond oil and penetrates quickly and deeply into the skin.
Using Hazelnut Oil for Skin and Hair Care
• MASSAGE OIL – Hazelnut oil acts as a carrier that absorbs the flavor and active ingredients of essential oils. This is an excellent massage oil that does not leave a greasy feeling on the skin. It penetrates the skin thoroughly before lubricating and softening it. This oil is widely used by massage therapists to relieve certain physical or psychological pains.
• BEAUTY CREAM – Hazelnut oil can be used in a cream or lotion to make a home beauty product. It is an oil with nutritional, moisturizing, soothing, firming and anti-aging properties. Because of its high content of vitamin E, hazelnut oil does not become rancid quickly and can be stored for up to 1 year in a cool, dark place. Some women use it as a extra gentle cleanser.
• THERAPEUTIC REMEDY – Hazelnut oil is used to treat acne and prevent the appearance of blackheads. It helps to increase the synthesis of collagen and elastin. It also stimulates blood microcirculation.
• HAIR CARE – Hazelnut oil is an excellent hair care to treat dry and damaged hair and protect them from the harmful effects of the sun. Hazelnut oil is used to regrow hair and brings softness and shine to your hair.
There are many soaps, gels and body lotions containing hazelnut oil on the market to nourish and take care of your skin daily.
Home Beauty Recipes From Hazelnut Oil
Recipe # 1 : Facial mask for oily and acne-prone skin
• 1 tablespoon of natural green clay
• ½ teaspoon hazelnut oil
• ½ tablespoon of jojoba oil
• 2 drops of lemon essential oil
Mix all ingredients in a bowl and apply to clean skin.
Leave the beauty mask on for about 10 minutes and remove with warm water.
Recipe # 2 : Treatment of hands damaged by the sun
• 4 tablespoons of finely ground oats
• 1 tablespoon of plain yogurt
• 2 tablespoons of cocoa butter
• 1 tablespoon hazelnut oil
• 2 tablespoons pineapple lemon or raspberry
Mix all ingredients to a uniform paste in a small bowl.
Leave this natural remedy on for thirty minutes then rinse with cold water. Repeat this treatment twice a week if necessary.
Recipe # 3 : Tanning Oil to prevent sunburn (normal skin)
• 2 spoonfuls of sesame oil
• 2 tablespoons of wheat germ oil
• 2 tablespoons of hazelnut oil
• 4 tablespoons walnut oil
• 5 drops of lavender essential oil
• 5 drops of essential oil of ylang -ylang
This solar oil keeps naturally for 2-3 months in the refrigerator. Do not use any rancid oil.
If you like to make your own soaps, please bear in mind that the saponification of hazelnut oil is 0.195 for potassium hydroxide (KOH) and 0.139 for sodium hydroxide (NaOH).
Author : Alexis ROGER
Press The Rewind Button On Aging From the Inside-Out
Master a powerful, anti-aging Shiatsu routine that helps generate lymphatic circulation and gives you a natural facelift. (You won't believe how easy it is to diminish that swelling around your eyes… or the puffy, blotchy complexion that drives you crazy.)
Eliminate fine lines around the eyes and mouth.
Tone sagging facial muscles.
Firm facial contours.
Soften deep wrinkles across the forehead, between the eyebrows.
Reduce under eye and facial puffiness.
Tighten large and uneven facial pores.
Define cheeks, neck and jawline.
Improve skin texture and color.
Create a luminous and radiant glow.