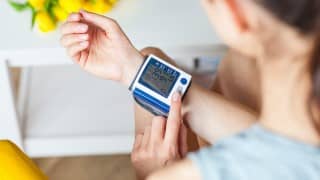 Uncontrolled high blood pressure consistently above 140/90 mm Hg is a serious health problem that can lead to heart disease and increase the risk of stroke.
In this article, we explain 10 simple and effective ways or means to reduce blood pressure without using medication.
Someone you love suffers from high blood pressure, do not hesitate to check and share the following information with them:
1. Jogging or brisk walking
A Danish study (Copenhagen City Heart) performed on 20,000 men and women aged 20-93 years showed the benefits of jogging on the cardiovascular system. An hour of jogging per week can increase the life expectancy by six years on average. The researchers explain that jogging offers many health benefits, such as improving the supply of oxygen to the muscles, preventing obesity and reducing blood pressure.
And if you do not like running ? Fortunately, any other physical activity can help lower blood pressure by strengthening the heart so it can pump more blood with less effort, which reduces the force of blood exerted on the artery walls. A brisk walk is just as effective as jogging.
2. One Yoghurt today!
According to a study presented at the University of Minnesota in the United States, taking a small pot of yoghurt (120g) per day can reduce your chances of suffering from hypertension by a third. Scientists believe that naturally occurring calcium can make blood vessels more flexible, allowing them to relax a little, which helps maintain a healthy blood pressure.
So, if you have not done so already, be sure to start taking yoghurt in your daily diet to reduce tension or to prevent certain cardiovascular diseases.
3. Eat bananas
A simple way to reduce blood pressure is to eat foods high in potassium such as bananas while reducing salt intake. According to a new study published in the British Medical Journal, this basic advice could save thousands of lives each year.
Potassium is an important mineral in effect that controls the balance of fluids in the body and helps lower blood pressure. If you are prone to high blood pressure, try to eat five bananas every day.
4. Reduce salt intake
Salt attracts water. Overconsumption of salt may be responsible for water retention, increased plasma volume, which leads to excessive pressure. Beware especially of salt in processed foods such as cookies, to breakfast cereals, canned soups, canned vegetables, ready meals, frozen food or fast food.
5. Lose weight
Excess body weight makes your heart work harder, which can lead to hypertension disorder. If you are someone who is more or less overweight, simply losing a few pounds can significantly reduce your blood pressure.
For more information on how to lose weight naturally, please click on the following link: Lose Weight Naturally – Answers to Your Questions
6. Stop Smoking
The nicotine in tobacco stimulates your body to produce adrenaline, which makes your heart beat faster and raises blood pressure. If you are a smoker and you have high blood pressure, the first thing to do to reduce the tension is to stop smoking.
For more information on how to quit smoking, please click on the following link: The Smoking Breakup Plan
7. Work less
A study at the University of California has proved that a person who works in the office 40 hours a week increases the risk of hypertension by 14 percent. Office workers doing overtime and working more than 51 hours are 29 percent more likely to suffer from high blood pressure. In such working conditions, it is more difficult to eat healthy and be physically active, say researchers.
A beneficial way to normalize high blood pressure is to adjust your schedule in order to get enough sleep, practicing a sport or physical activity and eating healthy foods.
8. Beware of obstructive sleep apnea!
Incessant and loud snoring may be one of the symptoms associated with obstructive sleep apnea syndrome. But more than half of people with this syndrome show a significantly elevated blood pressure.
Make sure you do not suffer from this disease. If this were the case, consult your doctor. There are medical (taking certain medications) and instrumental treatments to treat this disease which will ultimately have a positive effect on your blood pressure.
9. Avoid caffeine
U.S. researchers working in « Duke University Medical Center » in North Carolina, found that consumption of 500 mg of caffeine a day, equivalent to about three cups of coffee, increases blood pressure. Caffeine can increase blood pressure by constricting blood vessels and amplifying the effects of stress.
10. Think about taking beetroot !
A study published in the article « Hypertension » has shown that drinking a daily cup of 250ml of beetroot juice can reduce blood pressure in people who already have high blood pressure by around 7%. It is believed that this therapeutic effect is due to high nitrate levels naturally present in beet. Yet another useful way to normalize blood pressure naturally!
Author : Alexis ROGER
The Bloodpressure Program
New research reveals that one single organ is responsible for almost all cases of high blood pressure.
Contrary to what you may think it's NOT:
the heart
the kidneys
the arteries
…or any other cardiovascular organ.
By addressing the one organ responsible you can lower your blood pressure without:
medications
supplements
diet changes
strenuous exercises
In fact, you can lower your blood pressure from home in an extremely pleasurable, relaxing way.
Not only will you lower your blood pressure, you'll also address any damage already done to your arteries.