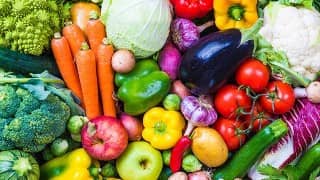 High blood pressure cannot be cured, but it can be controlled through lifestyle and diet changes.
Studies have demonstrated that following a healthy eating plan can lower elevated blood pressure.
An ideal diet for high blood pressure must include foods: low in saturated fats and cholesterol, low in sodium(salt), high in potassium and magnesium and high in antioxidants and vitamins. So what foods are good for high blood pressure ?
Fruits that Lower Blood Pressure
>> Banana
Bananas are very high in potassium and low on sodium, which helps to control high blood pressure. Researchers have revealed that a daily intake of 4,100 mg of potassium can lower blood pressure by an average of 7.2/2.8 mm Hg in people with hypertension. Medium banana usually has 1 mg of sodium and 422 mg potassium, making it one of the most potent fruits against high blood pressure.
>> Citrus Fruits
Citrus fruits are full of vitamin C, phytonutrients and bioflavonoids. A daily intake of 500 milligrams of ascorbic acid or vitamin C may significantly reduce blood pressure. Phytonutrients act as antioxidants and prevent blood clot in the blood vessels. Bioflavonoids are natural pigments found in fruits and vegetables.
These pigments increase the strength of the capillaries and regulate their permeability. They also help control cholesterol. Bioflavonoids have potential benefits in the prevention and treatment of hypertension. Eat regularly citrus fruits such as grapefruit, orange, lemon, lime, tangerine, sweety and satsuma.
>> Melons
Melons like cantaloupe and watermelon are particularly high in potassium which helps to bring blood pressure down to safer levels. Melons are also a very concentrated source of the carotenoid called lycopene. Lycopene is a natural substance that helps prevent the hardening and narrowing of the walls of arteries and veins, thereby reducing high blood pressure.
>> Prunes
Prunes are a good source of potassium. A cupful of dried prunes contain 828 mg of potassium. This fruit is low in fat, sodium and cholesterol. A high potassium-low sodium diet helps lower blood pressure numbers by reducing the blood vessel constricting effect of adrenaline.
Furthermore, prunes contain more fiber (7.5 per cent) than most fruits and vegetables. A high-fiber diet has been shown to be effective in preventing and treating many forms of cardiovascular disease, including hypertension.
Dried apricots, figs, kiwi, oranges, raisins, dates, grapefruit are the other foods which are good sources of potassium.
Vegetables that Lower Blood Pressure
>> Celery
There is some experimental evidence that shows that celery is useful in lowering blood pressure. Celery contains an active ingredient called: 3-n-butylpthalide. This natural compound present in celery is known to relax the tensed muscles of the arteries by dilating them. Eating four stalks a day as a snack will work wonders.
>> Carrots
Eating carrots is also helpful to those who battle hypertension. Carrots are high in beta-carotene, antioxidants (especially the vitamin A), soluble fiber and potassium. Studies have revealed that beta-carotene contributes to the prevention of heart disease leading to high blood pressure. The high potassium level in carrots enables it to prevent and control blood pressure.
>> Tomatoes
Tomatoes contains carotenoids such as lycopene, beta-carotene and many vital vitamins like A, C and E. Powerful antioxidants found in tomato have the properties to inactivate free radicals and to slow the progression of atherosclerosis.
Studies have suggested that lycopene may lower blood pressure in hypertensive patients. Lycopene prevents LDL (low density lipoprotein) cholesterol from sticking to the blood vessel walls, which in turn prevents the heart from raising blood pressure.
Tomatoes are also high in gamma-amino butyric acid (GABA), an ingredient that can help bring down blood pressure naturally.
Other Foods to Cut Blood Pressure
>> Beans
Studies have suggested that the antioxidants, vitamin D and calcium help in lowering blood pressure. According to the University of Maryland Medical Center, people with calcium deficiencies may be at higher risk for hypertension.
Beans are rich in potassium but also in calcium. Whether they are soybeans, kidney beans, black or white beans, chick peas, navy beans, split peas, Lima beans or lentils, they all contain high levels of magnesium along with potassium which has been shown to reduce blood pressure levels.
>> Fatty Fish
High level of important omega-3 fatty acids (also known as vitamin F) found in fatty fish such as mackerel, salmon, sardines, tuna fish and trout help the circulation. Omega-3 fatty acids help to reduce high blood pressure.
Author : Alexis ROGER
The Bloodpressure Program
New research reveals that one single organ is responsible for almost all cases of high blood pressure.
Contrary to what you may think it's NOT:
the heart
the kidneys
the arteries
…or any other cardiovascular organ.
By addressing the one organ responsible you can lower your blood pressure without:
medications
supplements
diet changes
strenuous exercises
In fact, you can lower your blood pressure from home in an extremely pleasurable, relaxing way.
Not only will you lower your blood pressure, you'll also address any damage already done to your arteries.